Have you ever received an unsought message from a digital "professional" that seemed too good to be true? Perhaps, it was a message from a marketing agency through Instagram promising to grow your account to 10 thousand followers in less than a month. Or an email from some business owner that has performed a free analysis of your website's SEO performance and assures you they can get your website onto the first page of Google.
While these messages seem to solve your most sought after problems and are a god-sent gift, more often than not, you are being scammed.
These so-called experts will scam you out of your time and money nor take the time to get to know anything about your businesses goals, missions, target audience and so forth.
How do we know this? We have had too many businesses contact us with questions about marketing agencies or web developers that are charging them extra fees or not delivering on what they promised.
We want to help small tourism operators identify genuine business specialists from scammers with our Buyer Beware cheat sheet.
Our cheat sheet:
outlines the red flags to look out for (e.g. big promises with no evidence of prior work or commitment to work with your business)
provides a list of indicators outlining what we qualify as a high-quality supplier (e.g. our green flags)  
steps you need to take if you think that the offer is too good to be true (e.g. with our must-ask list of questions which will help you not get ripped off)
What to look out for when hiring ANY online marketing specialist or business service provider
Whether your business is looking into growth strategies or is at the state where you need a new website, professional photos or need someone to manage your Instagram account. Regardless, you need to feel confident that you are spending your time, money and resources wisely.
We have curated the following tips to help you to filter out the suppliers that are either dodgy or simply not compatible with your business so that you can succeed and see the help and growth your business deserves.
Red Flags:
These are the signs that a so-called "professional" would have if they were not a genuine specialist nor have your best interests at heart.
They make promises that seem too good to be true.
They send you a cold email or message. Be additionally wary if:

the message has a lot of spelling or grammar errors (this is what scammers do to get through your spam/junk filter undetected).
the message comes from a gmail or hotmail.
the message says your business would be the perfect fit when in fact your interests, business goals and audiences do not align.

They offer extremely high or extremely low prices.
They make little to no effort to get to know your business, your customers, your audience and the purpose of the project.
They have no portfolio. Or, they do have a portfolio, but:

it features clients that are dramatically different to yours
all their work is 'one-tone' – meaning that all the work looks the same. This suggests they work only according to their own style and will not adjust to meet the needs of individual clients like you.
Green flags:
These are the indicators that the specialist is legitimate and will be a good potential freelancer or outsourcer for your business.
It is important to note that even if the person you find ticks all of the boxes below, you will still need to ask them some qualifying questions before you sign any contracts or send them your first deposit.
Look at their online reviews to see if they have a high rating and great feedback from past clients.
They show they understand your business's objectives, values, audience and goals.
Ideally, they have experience working with similar businesses in your industry.
They are organised and are a good communicator. They should respond quickly to emails, return phone calls promptly and clearly communicate the terms, scope and schedule of the project they are working on.
The timeline they suggest for the project seems reasonable. Rome wasn't built in a day and neither is a great website. The project timeline should factor in all the different phases of the project which, depending on what the project is, may include a research phase, a content exchange, a specified number of revisions and the final handover date.
You "gel" with them! You want to have a positive working relationship with any specialists you hire to create something on behalf of your business.
Can you trust a cold email?
A cold email or message is any unsolicited communication sent to you or your business out of the blue and without prior contact. It is a stab in the dark on behalf of the sender who is trying to drum up business. The sender has little to no knowledge of your business (despite their claims) in hopes to win you over by promising big wins at a low price.
Sending an unsolicited email is actually illegal in Australia according to the 2003 Spam Act. Businesses must seek consent from individuals they want to send an email to. If you have never interacted with a business or individual before and they start sending you promotional emails out of the blue you should first mark the email as spam or junk and then delete it.
Below are some examples of unsolicited messages from people claiming to be digital marketing specialists.
Example A: Email from a "Web Developer"
Signs that you should not proceed:
The recipient is not on the sender's email database.
The sender uses a Gmail email address.
No website or business name means that you can't conduct any research into their business.
They have requested a phone call but haven't provided a number for you to call them.
Claims that they are inexpensive.

Example B: Email from an "SEO Specialist"
Signs that you should not proceed:
The recipient is not on the sender's email database.
Offers to sell packs of links to boost SEO performance.

Example C: Message from an "Instagram Developer"
Signs that you should not proceed:
A generic cut and paste message that praises the recipient's content generically.
The sender provides no plan for how they will grow your account.
The sender is directing the recipient to a different Instagram account.
The message was sent out of business hours.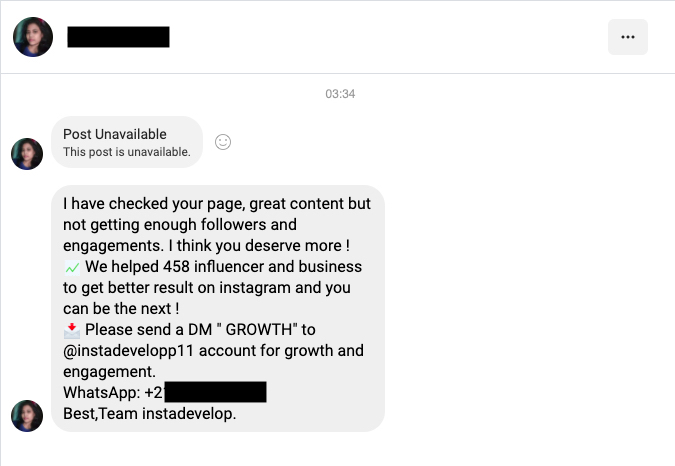 Things to clarify at the beginning of any collaboration with a digital marketing specialist
Project objectives

Why are you hiring them?
What are you wanting to achieve?

Budget calculations

What exactly is included in the cost.
How many options and revisions/edits will you need?
Ask to be notified of any additional add-ons before the work begins.

Payment terms

When are the deposits and final payments due?

Project timeline

When will they get started?
How often will you be given progress updates?
When will you receive the final product?

Who's responsible for what

What content do they need from you? Consider the images, copy, logos and brand guidelines you will need to share with your specialist.
Who pays for image licensing?

Deliverables

Outline exactly what it is you'll be getting at the end of the process.

Ownership of content

What are the licensing options?

Cancellation agreement

What happens if it doesn't work out?
A Cheatsheet for 5 Different Marketing Specialties
The Buyer Beware cheatsheet provides a list of red flags, green flags and questions to ask these specific marketing specialists:
Website developers
Search engine optimisation (SEO) consultants and blog-writers
Organic social media marketers (for Instagram and Facebook)
Graphic designers
Photographers
If you want to learn how to not get ripped off in business, you can download the cheat sheet for free below.
Some of the people who claim to be experts in digital marketing rely on the fact that the business owners they are trying to persuade have little knowledge of the topic themselves.
Being informed of the best practices in website management, SEO, social media strategy and any other realm of digital marketing will empower you to identify a fake sales pitch. Even if you don't get to the level of being able to manage it all in-house, understanding the processes and terminology will give you more control over the way a project is handled by any supplier you choose to work with.
You can view our range of self-paced online courses here. You can also join our Facebook community of small tourism operators to seek their advice and feedback.
This first article was published on Navii, November 15th 2021.
[gravityform id="1″ title="false" description="false" ajax="true" tabindex="49″ field_values="check=First Choice,Second Choice"]