Are You Suffering From The 'What Am I Gonna Post Today' Syndrome?
Meet your Social Media SuperHero who will give you a new idea every day about what to post.
Social SuperHero Calendar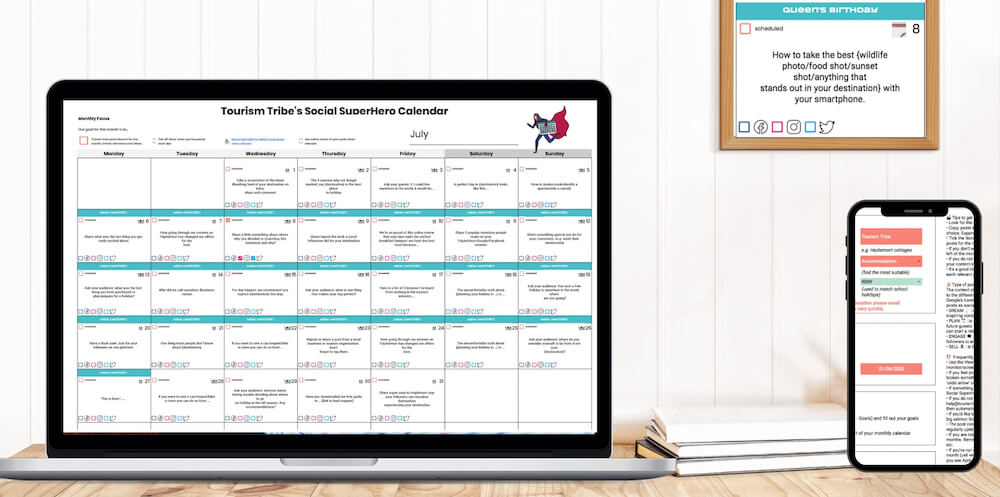 This is a no brainer for a tourism business who doesn't have 2h a week to plan their social media content.
We've designed a tool that takes 24 (!!!) months of content ideas for your industry and displays them in a dynamic calendar for every month. You just have to copy, paste, flesh out and add your own images/video/emojis and you're done…like magic! 
We've also overlaid your region's holidays so if that's meaningful for your type of business you can plan for extra special holiday content. 
Imagine What Your Life Will Be Like When You
How Does This AutoMAGIC Tool Actually Work?​
The SuperHero calendar uses your location and industry type and DYNAMICALLY generates 2 years worth of social media content ideas for you to use on Facebook, Instagram, Twitter, Google My Business, you name it.
It beautifully displays all this content in a monthly calendar for you and also displays your state's holidays. 
* 
The post ideas are sourced from social media industry experts and are continuously updated and will directly update in your SuperHero calendar. 
*
It really is the ONLY social media prompt generating machine made specifically with small businesses in mind by digital marketing strategists.
Yes!!! We have taken our simple social media planner and superhero-ed it so you don't have to plan the posts yourself. 
That's why it's called the Social SuperHero Calendar 😉
We've programmed your SuperHero Calendar to receive new content ideas directly from the Tourism Tribe mothership. 
For example, if there is a natural disaster happening in your region such as Bushfire or Extreme Weather Event you'll be able to swap your posts for relevant 'disaster recovery' posts at the click of a button.
It really is Magic.
We've made it JUST the way we needed it, but tailored it for you.
We've gone around the moon and back with automation and programming in order to give you this perfect SuperHero addition to your business.
This tool is not only going to save me hours but motivate me SO Much to do social media! Thanks so much, you are amazing!
Thank you - this is the exact thing I needed for my Insta-Motivation. My goodness it's FANTASTIC!
Wow, again. Congratulations to the team for an amazing product that will help me big time 🙂
Can I print it instead of using it online?
Totally! We like to print things too so we've designed it to work online or in a printed format.
Is it $69 per month?
NO!! It's $69 all up, for 24 months! That's $2.87 per month!! (plus all the pain of having to come up with the content)
Why is it sooo cheap? 
At Tourism Tribe we work with small tourism businesses.  We're one ourselves.  We use technology to develop great products that are affordable to our target market.
The revenue from this product allows us to continuously improve it for you, and since you'll benefit from all the new content automagically then it's a WIN WIN for both of us.
Do I need to post every day? 
The most important thing we recommend is consistency.  If you've been posting 5 times a month you can expect to easily improve the quality of your posts thanks to the SuperHero calendar AND you'll even be able to set your goal to posting 10 times a month.
We've provided daily post ideas as it is something you should aim for, but it doesn't mean you have do reach this goal now.
I've just bought one of these Calendars from another marketer!
We've seen plenty of social media calendars out there.  We've bought many.  We've tried plenty.  None of them were specifically for small businesses and had content that followed the Purchase Lifecycle.  Some of them promised the moon but they were just a 4 page downloadable PDF with absolutely nothing of value.  So disappointing!
So we've invested in our time and in Excel formula gurus to help us develop the SuperHero calendar that is just for small businesses!  We've also gone above and beyond and added all the school holidays.
Check out today and we will personalise your calendar for your business for you.