Want a cheap personal assistant that works 24/7 like a robot with minimal oversight? Well, have you heard about this life-changing automated business tool called Zapier that helps make digital and admin tasks convenient and easier to manage?
Literally, in one zap (or click), your business can connect different apps, systems and programs together to create a workflow that's easy for you. Saving you time, money, resources and a lot of stress!
Nearly every business can use Zapier. It's an affordable, friendly resource that doesn't require extensive special technical skills and maintenance. So, if there is ever a possibility to make your and your businesses life easier, it's worth looking into, right?
What is Zapier?
Zapier is an online tool that helps different programs work together. Think of it this way. If you have two hoses that are different sizes, you need to use a hose connector to be able to pass water through them both.
That's what Zapier does. It works as a connector to help two different programs function smoothly together and talk to each other without any of your constant input.
That way, your business systems can work together to achieve important tasks and deadlines without you having to do any of the tedious work, copying and pasting, configuring calendars, notifications systems and so on.
Automate digital and admin tasks with Zapier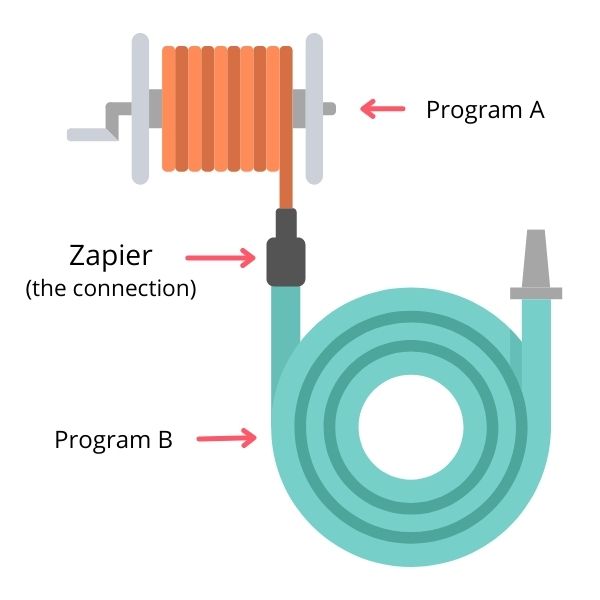 While digital tools are getting smarter and smarter, no single tool can take care of all the digital needs of a small business and that's where Zapier comes in.
How does it work?
Zapier functions through workflows called 'zaps'. A zap is a series of actions that have been pre-determined by you which begin with a 'trigger'. Let's take a look at a simple example to see how this works.
The below screenshot is a workflow or zap that will automatically save any attachment you receive via Gmail to a folder in Dropbox.
Step #1 (when this happens …) is the trigger that tells Zapier to start the action. In this instance, the trigger that you receive an attachment via email to your Gmail inbox.
Step #2 (do this …) is the action that Zapier needs to take in response to the trigger. So in this case Zapier will take the attachment you received and save it to a folder in DropBox for you.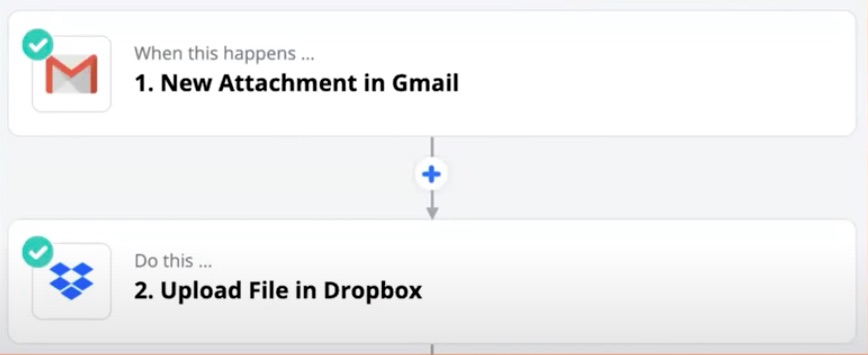 Which apps work with Zapier?
Zapier works with over 3000 apps! You can view a full list of integrations on the Zapier website. We've listed a few of the ones that you might recognise or use in your own business.
Google Workspace apps (Gmail, Google Sheets, Google Calendar, etc)
Zoom
Facebook
Microsoft outlook
Squarespace
WordPress
Shopify
DropBox
YouTube
MailerLite
Gravity Forms
Slack
Trello
Salesforce
If your website developer does not integrate your systems with Zapier, we recommend getting in touch with them to find out when they are thinking of making that integration.
If they ask, "What's Zapier?" that is a big red flag.
Zapier is very well known in the tech world and for your web developer to not know what it is, suggests that they are not staying up to date with what's happening in the digital marketing world and are perhaps dropping the ball in other areas as well.
If your developer says that they don't connect to Zapier but they do have 'webhooks', you can feel reassured as this is a workaround. We will explain webhooks in a moment.
This also applies if you are considering engaging with a new digital platform. It is important that you check any new platform is in Zapiers list of integrated apps and if it's not there, maybe it's a sign you should reconsider your options.
What to do if one of your platforms doesn't connect to Zapier
This is where webhooks can save you! Using webhooks, although a slightly more advanced process, is absolutely manageable for someone with moderate tech skills.
Imagine that your online shop does not integrate with Zapier but does use webhooks. What you want to do is to pass new customer details such as first name, last name and their birthday or postcode to your CRM (Customer Relationship Manager).
What needs to happen here is that you need to tell your eCommerce app that when a new order happens, it needs to send that customer information to your CRM.
The process of setting this up will involve finding the right webhook URL in your CRM to let the eCommerce store app know that it needs to send information every time a new order is created.
We won't go into full detail on how this happens because that is a whole other blog in itself.
But just know that while it will take a little extra work to understand and set up, it's definitely do-able and something to look into if your current systems do not connect to Zapier.
Examples of how a small tourism business could use Zapier
I want you to think about all the tasks that you do repeatedly. If you're doing any kind of data entry or repetitive admin tasks on your computer every day there's a high chance that you will be able to automate that task with Zapier.
Here are a few common uses for Zapier in a small business setting:
Pass new customer details to your CRM (customer relationship management) or email marketing system
Notify you (e.g. via slack or email) every time you get a new booking
Back up files regularly to your Dropbox
Follow up with an email or feedback form after an online sale
Copy your favourite (e.g. liked) social media posts to a safe place you can revisit (& not your cluttered camera roll)
Pass Google Sheet data to your CRM or email (no need for anymore copy and pasting)
Get a report of new Xero sales invoices sent to your inbox or Slack on a daily/weekly/monthly basis
Aggregate survey responses in a Google Sheet
Save new email attachments to Dropbox
Zapier's Learning Centre is a great place to start if you're not sure how Zapier can improve business operations and daily hassles 10-fold.  Their Learning Centre has a number of guides that can provide information and inspiration and is great for new users.
Each guide is written in plain English and will give you lots of great ideas on how you can save time when you automate digital and admin tasks with Zapier.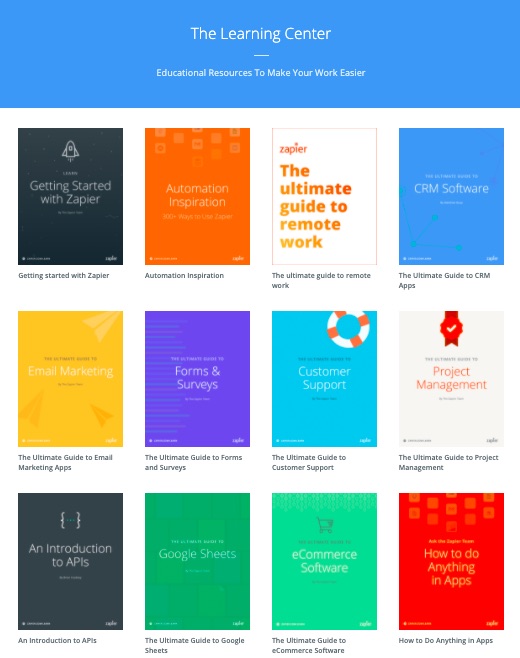 Time-saving automation demonstration
In this video, Fabienne takes you on a quick tour of the Zapier user interface and demonstrates how to set up a zap that creates or update a subscriber list in your email subscription list whenever a new sale happens in your online shop.
Play the video below to see Zapier in action (we've skipped to the good bits for you).
One great thing to note with Zapier is that they do have a free plan.
Of course with any free plan, there are some limitations. For example, there is a limit to the number of Zaps you can have running at once. There are also some apps such as Facebook Lead Ads, Salesforce and PayPal which are only available to users on a paid plan.
But a free plan is the best place to start if you want to see how much time, money, resources and hassle you can save using Zapier.
Spend your time wisely doing the important stuff
In summary, one of the most common complaints we hear from small business owners is that there is never enough time to do all of the things they would like to do.
If you've been struggling to find time to spend on product development, customer service, implementing business growth strategies and or upskilling yourself and your staff, then Zapier is for you.
If you have been struggling when balancing work and life, family and friends, then Zapier is also for you!
So, if you're ready to start exploring your options with Zapier, read through their online guides linked above for inspiration and information on setting up your first Zap for free.
If you're feeling inspired but still perhaps a little nervous, we also offer a Marketing Automation Package where our in-house automation angels can work with you to examine the tools you use and figure out where you could be saving time using Zapier.
We then set do all of the set-ups for you and give you a tour of your new Zaps as well as training and documentation about the automation so that you are empowered to improve and/or extend it as your business grows.
Now is the time to invest in your business so you can continue growing and succeeding.
With Zapier you can change your business life and its efficiency by making it simple to automate marketing activities and cut down time spent on mundane tasks that just consume your most precious resource: time and energy.
While we are not sponsored or have any affiliations with Zapier, we hope this article inspired you to take a look at Zapier and how it can help you grow your business!
Live Session on Zapier
Liz and Fabienne answered your questions about Zapier in a recent live stream. They explained (in simple English) how Zapier can work for your business and walked through a real-life demonstration using MailerLite.